(This week's "Album of the Week" was written by the very first guest contributor, Carey Farrell. I've known Carey for about as long as I can remember (25 + years, which is still strange for me to think that I'm that old) and she graciously agreed to write this awesome post on The Monkees' "Pisces, Aquarius, Capricorn & Jones Ltd.  Enjoy!  – Matt)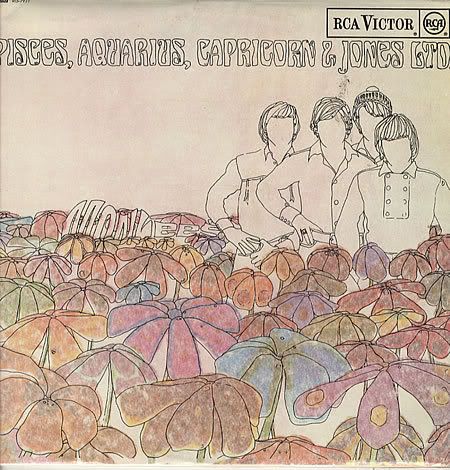 The Monkees have been one of my favorite bands for nearly 25 years, since their late-'80s revival courtesy of MTV and Nickelodeon. In that time, my love for them has gone from sincere to ironic and back again so many times I've lost count, and I'm just as likely to be mocking the promo video for "Oh My My" as I am to be practicing the riff from "Love Is Only Sleeping" or (let's be honest) marveling at how Peter Tork can remain one of the sexiest men in America, year after year after year.
I know not everyone shares my love for the Prefab Four. I've heard it all before: "They didn't write their own songs!" "They didn't play their own instruments!" "That's not even Mike Nesmith's real hat!"
Just hear me–and the music–out.
Pisces Aquarius–the title comes from the Monkees' star signs, with Mike and Davy as the birthday twin Capricorns–is a mix of the "Monkees and studio musicians" approach of the first two albums, and the "Monkees take total creative control" approach of their third album, Headquarters. There are musical contributions from Monkees songwriting vets like Tommy Boyce and Bobby Hart ("Words"), Gerry Goffin and Carole King (the single "Pleasant Valley Sunday," and the groupie-bashing "Star Collector"), and Jeff Barry and Ellie Greenwich ("She Hangs Out"). But Mike contributes as a songwriter and a guitarist, and Peter plays guitar and keys, and Micky plays the Moog synthesizer (more on that later), and all four contribute lead and backing vocals.
Mike, always the leader of the band on the TV show, finally has his time to shine on an album, singing lead on five of the thirteen songs. "Love Is Only Sleeping," a gorgeous piece of psychedelia that foreshadows what co-writers Barry Mann and Cynthia Weil would later create for the cult film Wild In The Streets, is one of the highlights.
Micky's shining moment is, of course, "Pleasant Valley Sunday." And yes, you've been hearing it on the oldies radio your entire life, but listen to it again, and pretend it's for the first time.
Davy even has a cowriting credit on the love ballad "Hard To Believe." Is it the weakest song on the album? Of course it is. But the horns and the incessant modulation will probably make you smile anyway.
And Peter? Peter sings in tune.
More or less.
Pisces Aquarius finds the Monkees exploring darker and more experimental territory. "Pleasant Valley Sunday" and "The Door Into Summer" snark about the same grey flannel-suited suburban squares whose kids turned the band into superstars. "What Am I Doing Hangin' 'Round?" is the story of a one-night stand (gasp!),"Salesman" includes a drug reference (won't somebody please think of the children?), and "Daily Nightly" is Mike's response to the November 1966 Sunset Strip riots. Whether or not Harry Nilsson's "Cuddly Toy" is really about a gangbang, there's no denying that perpetually perky Davy sounds a little creepy on it–and he sounds even creepier as he leers his way through "She Hangs Out" and snarls lines like, "How can I love her when I just don't respect her?" in "Star Collector." And then there's the Moog synthesizer. According to Monkees legend, Micky was one of the first people to purchase a Moog, and he has a hell of a lot of fun figuring out how it works on "Daily Nightly."
Is Pisces Aquarius a product of its time? Absolutely. But there's something timeless about it as well. On Record Store Day this year, I dragged my husband and a friend up the street to our local record store to see a live performance of Pisces Aquarius by some of Chicago's finest independent musicians. The store was crowded with three generations of Monkees fans, singing along to every word of every song. And every person in the room was smiling.
Not bad for a 45-year-old record by a band that didn't even exist, huh?