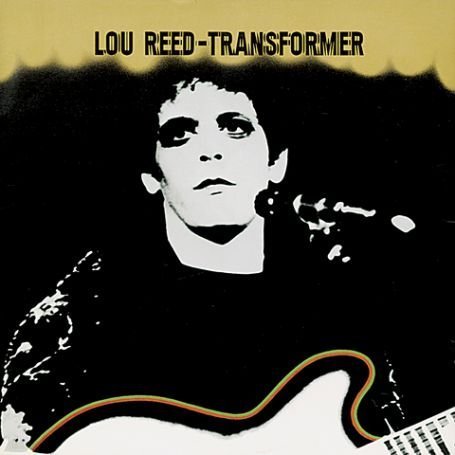 With the Velvet Underground, Lou Reed's songs were shocking in lyrical content and sound. Bizarre sexual practices and drug-use were detailed in full, and the band played with a fury and darkness to match. The 17-minute "Sister Ray" was all about excess in every sense of the world. Sheer noise was met with Reed's twisted tale of group sex and drugs (which may or may not have been happening at the same time.) In a way, The Velvet Underground preaching to the choir when they were recording. Chances are if you listened to them when they were around, you fell into the same crowd as they did.
With Transformer, Reed changes things up a bit. He's still obsessed with the same themes, but the music found on his second solo album is more accessible. "Walk on the Wild Side" is just as depraved as "Sister Ray", but it's more inviting. The same type of characters fill the song, but they've moved out into the streets. And with the chorus, Reed is inviting his audience to come with him. "Take a walk on the wild side," Reed whispers as a type of encouragement.
The irony of the album is that while Reed was trying to gain a wider audience, much of Transformer contains a resentment of some sorts to imitators and detractors. Some of this might have been directed at glam-rockers, who clearly saw Reed as a patron saint.  The fast-paced "Hangin' Around" is Reed's version of "Positively 4th Street".  The message is clear: if you meet him on the street he'll not only blow you off, but kick you in the balls.  "You keep hanging 'round me/and I'm not glad you found me.  You keep doing stuff that I gave up years ago."  On the opener "Vicious", Reed is clearly the antagonist. He claims that the girl is vicious as she hits him with a flower (the phrase was inspired by a conversation with Andy Warhol), but Reed wants her to swallow razor blades and threatens to mangle her feet.
He's even more scathing on the classic "Satellite of Love". Easily the album's best song, "Satellite of Love" bitterness is sugarcoated with doo-wop style background vocals and a gentle piano. It's a twisted love song, and Reed doesn't hold back any punches. He doesn't call out his ex-lover's infidelities he names all the people she's slept with and when's she done it: "Monday, Tuesday, Wednesday, Harry, Mark and John".
What makes Transformer such a compelling album is how it balances two extremes. Its hard-rock and pop elements make it easy to digest for casual listeners. But its classic Reed, and lyrically he proved that you can be just as weird and bizarre and achieve success if the songs are melodic and catchy.